This page is for memorable or funny moments on xat.com/Game or other game chats. If you have any, talk to a blog editor.
FEXBot gets naughty!
Warmingwoman, wherever you are, we found your soulmate, and his name is Coolingman!
Ocean wins the PGO slot machine!
Well, well, well. What are the odds of that happening?
Raven becomes a zombie!
Raven and her adventures with the bot!
The final drawing of Guess the Doodle, before and after!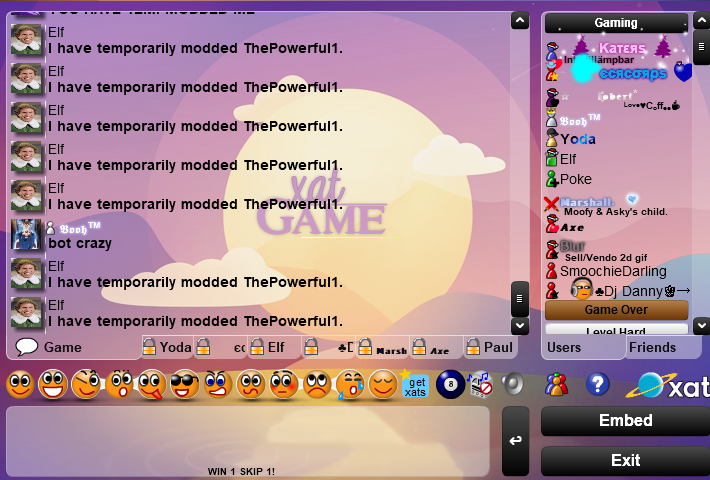 The two "Powerful1s" fall in love!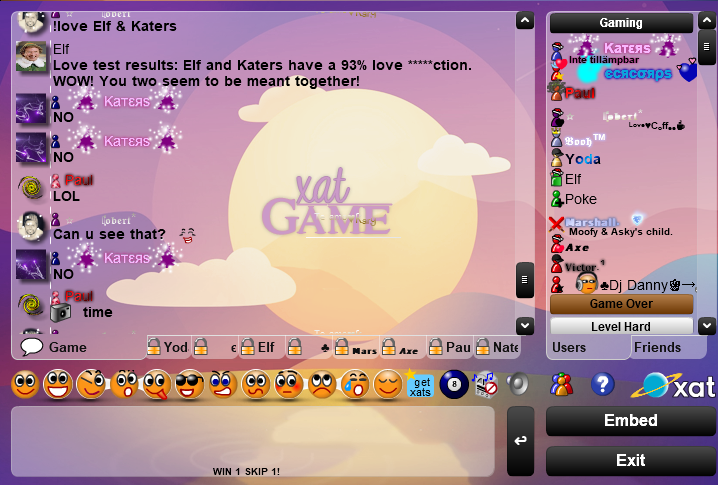 Nathan gets the new high score for the 30 hour slotban!
A savage round of Doodlerace!
Definitely not a gameban
Fake everypower 🙁
Aya's too good at TOS
Happy birthday Jake!
The test bot is too cool!
Flooding and then getting mod! Congrats Korrina!
Secret revealed!
Quadruple ban!
Yes way!
Having trouble Steven?
I
don't think Kitty thinks Bob is cute!
Gangnam Style is playing in the house!
More Gangnam Style!
Chris is a rapper?
THIS IS REAL LIFE!
Mobile dat!
Nice job autocorrect
Beautiful!
Calling Sammy
Thought Sammy was a girl!
Beast monkey!
Hugs for Junior
Accidentally turned on Rickroll!
Romian?
Pink has no talent
Baby, baby, baby, noo!
Steven is farting to the moon!
Pink you gotta be kidding me!
Oh Danny…
Rick Astley has been shamed!
Pink singing barbie
Steven can't do basic math